This is the second of a two-part essay about three young adult Korean orphans' travels in the U.S. This part is written by Jaeho and translated by Jin Dong. Jaeho is a KKOOM college scholarship recipient and is currently pursuing a career in ministry.
---
The next morning, we went to the bus terminal in Washington D.C. to go to New York. It was rainy at the moment to say goodbye to us.
It takes 4 hours from Washington D.C. to New York. I admire the bus driver that drove the bus without any break time. We can go anywhere from somewhere with 4 hours in Korea. America is really huge.
We arrived New York where we've just seen only in movies. We unpacked our baggage at 'Hi NY hostel', and met Aimee and her friends. We had pork meat in Korea town. The problem is that it was really expensive. And we took a rest to have good tour in New York.
I had not expected to see a baseball game in America, even in Yankees Stadium!! After the game, we went to Hillsong Church. What I was impressed by is there were two lines of people there, one was a line of people waiting to get into a bar, and another was a row waiting for church worship. It was interesting scene I can't find in Korea.
Led by Christine, one of Aimee's friends, we had some pizza which was two times larger than my hand. It also tasted good. I felt everything is huge in America at that moment. And we visited 'Strand Bookstore', which was opened in 1927. I really regretted not to study English very hard at the moment, Because I couldn't buy any books to read.
We walked again and again, stopped by Bryant park, New York city library and went to Times Square. It was really wonderful and beautiful. Even though it was night, I was impressed by many signs shinning. I'm not that good at taking a picture to take all of the beautiful scenes.


We walked again next day to see 'statue of liberty', the symbol of New York. (of course, we took subway, lol). Going to purchase the ticket to take the ship, a trickster tried to make us buy their fake tickets and we were about to get deceived, but fortunately, we didn't. Getting close to statue of liberty was also great, and the skyline of Manhattan was very nice. I envied the natural beauty I can't find in Korea.
We started to walk again, the next destination was the 9.11 Memorial. The area was still sorrowful and we couldn't enjoy it. The atmosphere was quite solemn. I wish everywhere in the world be free from terror.
We just wandered without any destination. We walked so long time that I didn't want to walk more. At the moment, two people appeared those who could encourage us, Christina and Christine, Aimee's friends and friends of KKOOM. We walked again with two New Yorkers. I felt like we were also New Yorkers. Our goal was to eat many kinds of great food in New York. 'Little Italy' was held at that time. I forgot what I ate there, but they were good. The food we ate at China town were really nice; I can't describe how great they are.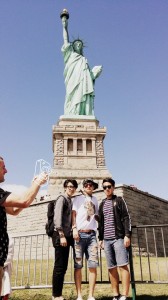 'Grand central terminal' was so beautiful not like other stations. I remember that it appeared on lots of movies. There were various stores and restaurants, but we just passed them. We stopped by Times Square again when we returned to the hostel. After looking around there several times, I thought it is just like advertisement exhibition.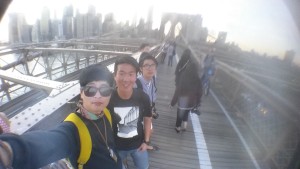 Next morning, we visited 'central park', I borrowed a bicycle and rode it around there. It was really huge. I wished to eat 'Samgyeopsal' on the grass in the park. I wanted to look around the park slowly, but we had just little time to do that. I was satisfied in being there and said goodbye.
Christina recommended us to visit 'Chelsea market', and we went there. The atmosphere was kind of special. I felt a harmony of traditional market and modern market.
After that, We moved to Brooklyn bridge. The sunset and Manhattan next to the bridge were really nice and beautiful. I didn't want to be interrupted by my camera, so I just saw the great view long time.
We recognized that there is a kitchen in the hostel the last afternoon we stayed there. We had 'Shin Ramyeon', and moved to Yankees stadium to see a soccer game of 'New York City'. I was interested that we would see a few famous players such as Pirlo, Lampard and Villa. I was also curious of how the stadium can change to soccer stadium.
We went to bed early to take the airplane the next day. I hoped to be back New York, I was not sure I will be back someday.
I was accustomed to boarding an airplane even though I just have experienced it a few times. I didn't feel joyful or interesting of getting an airplane anymore.
Our next city was Detroit, the 'Motor city'. We visited Henry Ford museum with Aimee. We looked around Ford factory and Greenfield village. And we took 'Model T', which is almost 100 years old. I was surprised that the car worked well although it is too old. We also took a train with steam engine. I don't know of Henry Ford well, but I could feel his passion at Greenfield village. After visiting there, we moved to Aimee's parents' house. It is a kind of typical American house I've seen in lots of movies.
Her parents served us very nice food and handmade beer, they were great!
We went to an outlet to buy some presents. Actually, I forgot the name of the outlet. It was really huge. The discount rate was also nice. After we bought some presents, we visited a casino. It was worth to experience, I lost 10 dollars, but I didn't think it is waste. And we visited Aimee's house and the law firm she works. In the evening, we watched a football game of West Michigan university. I knew a little bit about the rule of the game, so I could enjoy it. We spent the last night in America at a pub called "Bell's". We enjoyed various kinds of craft beer.
We returned to Korea by airplane from Chicago to Incheon. Two weeks went too fast. I was kind of sad and also happy to go back to Korea.
Someone said, 'World is wide and there is a lot to do.' That's really true. We have a lot to do. And I hope to visit lots of places in the world. I feel like I can go anywhere I want to go if I just decide. But it is difficult to achieve my dream because life seems so busy now. And now, it's been two months since I returned from America. I think, "Can I really do all of the things I want to do in this life?"
I appreciate God and all of the supporters who helped me to see and experience the wold. I believe the 2 weeks will be great seed in my life. I expect to have beautiful life. I believe God will lead my life and I will follow him.