This post is adapted from an email I sent to our supporters on Thanksgiving Day this year. -Aimee
---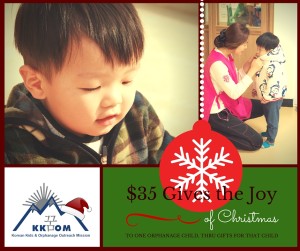 Who is an orphan? A dictionary will tell you that an orphan is a child whose parents are deceased or otherwise unknown. Yet, my experiences during these past 11.5 years in Korea's orphanage homes have painted a much different picture. In Korea's 200-some orphanages, there are relatively few "legal orphans" who fit the dictionary definition. Rather most children end up in orphanages because a permanent caretaker is unavailable, unable, or unwilling to take care of them for a variety of reasons, including incarceration, disability, or divorce. These children almost always have living biological parents, yet they rarely are able to form any kind of loving parent-child relationship, such as like I formed with my parents, despite being born some 6,750 miles away from them.
By all ordinary definitions, I was an orphan. My record says that I was found in a box in front of someone's house in Daegu when I was just a few days old (doctor's guess). Yet, I've never gone to look for that house or that someone, despite my 36 trips back and forth to Korea since 2004. Why? Because I'm no longer an orphan. I know my parents, and I know my belonging.
And it's from this place of certainty that — thanks to KKOOM supporters — I've been able to co-found and lead KKOOM, an organization that has been supporting kids whose lives could use more belonging since 2007. You see, an orphan is someone who lacks a true sense of familial belonging, that bond of love that forever connects a child to an adult — regardless of blood or circumstance. And each of the children I've met, cared for, and mentored in these Korean orphanage homes has the same needs – to be permanently loved and to believe they belong.
November was National Adoption Month, and it drew a bit of attention on social media. Personally, I'm thankful to have been adopted, and I know many others like me share these sentiments. Yet because each child and circumstance is different, I cannot, however, with conviction state that adoption is always the best answer for Korea's orphanage children. There are far too many failed adoptions and incidents of "rehoming", or even returning children to orphanages, both within Korea and internationally. There is also a new, welcome push in Korea to support single-mothers so children don't have to be put in orphanages. And even in some rare cases, I would testify under oath that kids have found "real parental love" in orphanages and through their tireless caretaker "parents", and I would not, personally, remove them from that state of belonging, especially at older ages. There are still other stories I can write, having seen fierce jealousy and heartache when one child is adopted from an orphanage and others are left behind. And then there will always be a need for temporary foster care, even if "temporary" means an entire childhood.
So what is my response? Personally, KKOOM is my response. "Kkoom" (pronounced "koom") means "dream" in Korean, and through KKOOM's work, since 2007, we help Korean orphans dream bigger dreams and build brighter futures, starting from where they are today, in these orphanage homes. We may not be able to permanently place each child in a better environment, but we can certainly help them prepare to make their way toward one. We can build their confidence, broaden their horizons, and help them find their sense of belonging in and connection to the greater world, and since KKOOM's founding, we've been doing just that. Hopefully this 12 Days of KKOOM blog series gives you an idea of what we've been up to and where we are headed in the new year.
Thank you for reading and for your support of KKOOM!