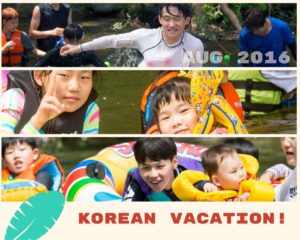 By Bill Downey, Board Member ~ I have just completed my second trip to Korea this year and plan to return in December for the holidays. It was very hot and humid, not unusual for the Korean peninsula this time of year, but you can always hope it will be cooler. That was not to be the case, as it remained stubbornly in the 90s for most of my 10-day visit.
KKOOM participated in and supported a three-day camping trip with the kids from Samsungwon in Gumi to a local area in the mountains. The main attraction was a stream that runs through the mountains with some modest cabin-type facilities overlooking the water. It was a nice break for the kids, and they really enjoyed the chance to cool off in the cold water and escape the oppressive heat of the city. The preschool and elementary school children made a day trip, and the older kids stayede for two nights.
My main duties were to take some images and video of the kids and help with logistic support. KKOOM hosted an American style BBQ the second evening. I volunteered to get most of the stuff for the BBQ which entailed which set off a flurry of trips to stores to get everything from paper plates to hotdo gs and hamburgers. After several days of shopping, we were in good shape to hold a successful American BBQ! The BBQ was topped off with a s'mores demonstration by Aimee and the kids then joined in to make their own. I am not sure if the cultural nuances of s'mores and camping got through but we can work on that!
Jerusalem Ministry holds an annual, three-day soccer camp for the boys in orphanages in the Seoul area. I stay at the U.S. Army garrison in Yongsan and the hotel is just across from one of the soccer fields they use for the camp. I stopped by last year and this year I was happy to provide a bit of support to them by moving volunteers and boys for lunch on two of the days of camp. It was also nice to reinforce and build on relationships with the dedicated staff from Jerusalem Ministry. We hope to have some boys participate next year and have some of our girls participate in their arts and crafts camp in January.
This was my sixth trip to Korea in three years and if someone were to ask me what my trips are like, I would say that I spend a great deal of time shopping and driving. I think that all endeavors find their natural path and that seems to be true for me and my visits. Helping to get things and bring them to the kids makes me feel useful and that in a small way, I am helping them out. I am a board member of KKOOM, but when I am in Korea, I am a volunteer. There is nothing glamorous or exciting about what I do, nor do the things I do require special skills. It just requires a desire to do the things that need to be done to support the activities we are involved in with the kids. Maybe more importantly, it demonstrates to the kids my commitment to them.
I will be back in Korea in December to participate in my second holiday event and I suspect I will be doing lots of driving and shopping!