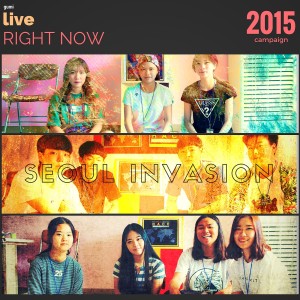 From August 7-10, KKOOM, with the help of Christine Arrozal, took a group of 11 high school students (pictured, left) from Samsungwon, the orphanage in Gumi, to Seoul for "The Amazing Race: Leadership Camp". Christine, a KKOOM volunteer, received a Davis Projects for Peace, which helped fund a majority of the camp and trip expenses. Christine and Aimee Jachym, KKOOM Co-founder and President, led the camp together. They were assisted by Bill Downey, KKOOM Board Member, Allison Sullivan, KKOOM volunteer, and several other local volunteers.
Below is a write-up of the camp, as told by three of the high school girls. 한글 더 편하신 분, 맨 밑에 참고하시기를 바랍니다. If you make it all the way to the end, there's also a video of the trip, which we think you'll enjoy!
---
Translation by JD Kim. Hello, we are Soyoung, Yoojung and Seunghee Ahn, high school students who live at Samsungwon. We had seen Seoul only through TV and just dreamed to be there because it's far from here, Gumi. Thank you for letting us have a nice camp in Seoul for 4 days.
On the first day, we played several English games in order to become familiar with the teachers. We appreciate for teaching and giving us chances to try use English we usually had not used and tried. While we were doing that, it was almost the time for the train, so we went to Gumi station, and it was like a dream that I was going to Seoul. When we arrived Seoul station, via Gimcheon, Suwon and several stations, we started the game again, the game was, finding teachers hidden in Seoul station. After the game, we went to Sinchon by subway ourselves. When we arrived at our accommodations, we dropped off our bags and took a break. we could see Seogang university and beautiful flowers through windows. In the evening, we did game missions in Seogang university and had dinner. After that, we visited another place in Seoul by ourselves. Feeling so great, I saw the sky, but I couldn't see any stars in the sky. It reminded me 'night in Seoul is sad'. told by a TV show I like. I was sorry and looked around and saw lights of many buildings and cars instead of stars. Continue reading »