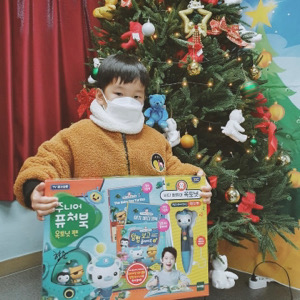 For the past 16 years, KKOOM's Christmas parties have spread joy, love, and laughter throughout the halls of KKOOM-supported children's homes. Although stringent government COVID-regulations prevent KKOOM Board members and volunteers from physically attending, we have ensured that our annual tradition will carry on. 
On Giving Tuesday this year, 111 supporters from across the world helped make this Christmas season the brightest of all. Fully sponsored: 200 Christmas gifts for Samsungwon and Aemangwon Children's Homes and Christmas meals for all 278 children and youth at Samsungwon, Aemangwon, and Emmanuel. 
In addition to gifts and Christmas meals, KKOOM is providing Samsungwon with supplies and prizes for a gingerbread house competition. It's an activity that the children loved so much from the 2019 party, it was highly requested to do again this year. 
"The joy of brightening other lives becomes for us the magic of the holidays." This quote by W.C. Jones explains why the holiday season is magical for the children and for KKOOM – you.
You bring joy to Korean children, no matter how near and far, through your giving, volunteering, and well wishes. When the children needed it the most, you brought comfort to 278 children this Christmas season. 
We are looking forward to sharing more photos of the festivities and are grateful to our extended KKOOM family for joining us in spreading holiday love and cheer. 
-Liat Shapiro, Board of Directors
Korean Kids and Orphanage Outreach Mission