What does growth mean in a business? According to indeed.com, it is a phenomenon that occurs when business owners, employees, and outside factors influence the success of a company. A business grows when it expands a customer base, increases revenue or produces more products. We are proud to say we are seeing tremendous growth in our nonprofit organization, thanks to the KKOOM community investing in the lives of Korean children and young adults. 
The proof is in the programs. In 2022, we implemented three new programs and initiatives. In February, the Korean Connection organization in Michigan hosted a fundraiser to provide over 80 new backpacks. We also funded new shoes for 102 Korean children so they could start the new year feeling refreshed with new shoes and new school supplies. 
As an organization, we are taking more intentional steps to provide more financial support to Aemangwon, a children's home who serves a neurodiverse audience, taking care of children with different physical and cognitive needs. That is why we funded a new wheelchair, thanks to a board member hosting a fundraiser, so the children with cerebral palsy can make it to their hospital visits, safely and comfortably. 
Lastly, we are focusing on implementing more emotional-support activities beyond the social and academic programs. Thanks to a generous donation from an anonymous couple, we launched the art-focused activities during the Chuseok holiday in September. The elementary and middle school students enjoyed an arts and crafts filled marketplace to make mini houses, clay figures, lego robots, or create beautiful things from their own imagination. 
We have been talking about creating some of these new initiatives for months or for years with the KKOOM Board of Directors. As we wrap up 2022, it is so encouraging to see that while maintaining our current programs, such as the preschool and college scholarships, welcome boost funds, english camps, and holiday events, we can grow to create more impact in the lives of the children and young adults we serve.
Thank you for being a part of our story and creating a legacy by changing the lives of generations to come in South Korea!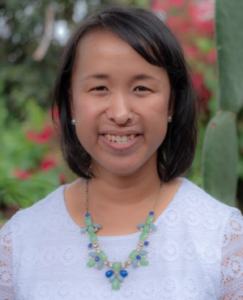 GRACE LEE
Grace resides in Georgia and first volunteered with KKOOM in 2015 when she was a Fulbright English Teacher in Sejong. After volunteering at the Samsungwon Christmas party, she became a Board member in 2016, the Chief Administrator in 2017, and the organization's first Executive Director in 2020. While at Georgia State University, she obtained a Public Policy degree, with a concentration in Nonprofit Leadership. As the Executive Director, she oversees all social media marketing, manages donor relations, email communications, and supervises our KKOOM interns and executive assistant. You can read more about Grace here.