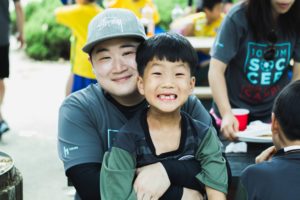 There is a saying "We are blessed to be a blessing unto others." Over the years, KKOOM has not only supported Samsungwon Orphanage in Gumi and Emmanuel's Children Home in Gimcheon, but we have had the unique opportunity to financially assist other children homes in South Korea.
Every year, we provide funding to Jerusalem Ministry in August so they can host a soccer camp for boys across the Korean peninsula. This year, our 500,000 KRW donation allowed them to take their volunteers and soccer boys to cool down at the swimming pool. We also helped Jerusalem Ministry provide shade to the kids during the hot summer days with the purchase of a canopy.
Funds are made possible for programs such as the soccer camp through our Volunteer Led Project application. Organizations can request funds to provide additional funding for things, such as but not limited to quarterly meetings, volunteer travels abroad, camps, art activities, and much more. Thanks to the generous support from our donors, these funds are readily available to extend a helping hand to our friends in other organizations who are advocating for South Korean orphans like KKOOM every day.
To read more about Jerusalem Ministry's soccer camp and stories of student transformations, please click here. Photo credit to Hannah Chong and Sky Becker from Jerusalem Ministry.