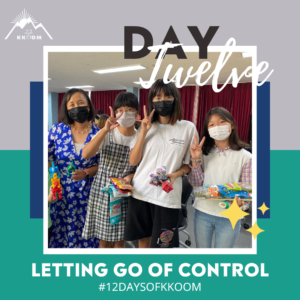 As the Executive Director of KKOOM, I have to say this is the biggest year of growth I've seen for KKOOM. As we wrap up our highlights and achievements, I wanted to share three things I believe helped contribute to that success from an internal perspective. 
Letting go of control. In 2021, KKOOM's Board Chair Helen told me at the annual board retreat that I was a perfectionist. No one ever described me in this way but I knew exactly what she meant. It is hard for me to let go of control because I've been successful executing programming in other spaces. I tend to get frustrated when I see others do it in a way that is different from my methods. Am I the only one who struggles with this? This year has been a year of delegating more tasks to other Board members and KKOOM's Executive Assistant because I realized that I cannot manage everything on my own, even though I think I can. 
Teamwork makes the dream work. KKOOM has not become an organization that continues to raise more money every year because of one person. The success of this organization is dependent on teamwork, collaboration, and having an open mind to try new things. It also helps to have an amazing Board of Directors who are so passionate to see different projects come to fruition. The amount of support and encouragement on and off the Board calls is what creates a positive culture, to work together to serve the most important people for our organization – the Korean children we serve. 
Putting more focus into KKOOM. In 2022, I had to choose between staying with KKOOM or saying yes to a second promotion in six months at a K-12 school. My former boss even asked during the initial talks for the promotion, "Are you willing to let go of KKOOM?" The job I would've taken was serving as the development director and the school's leadership saw me working in both roles as a conflict of interest. My answer was an immediate no and I decided to resign from the school in summer 2022, so I could focus more on KKOOM. By focusing more on KKOOM, we raised more money in 2022 than ever before. 
As we enter into a new year, I have never been more excited to see the potential of growth that is happening for KKOOM. In 2023, you will see updates to our brand, new initiatives and more focus on serving the aged-out young adult community, while also celebrating all that KKOOM has accomplished the past 15 years. The best is yet to come for KKOOM and thank you for being a part of our journey to make a difference for Korean children and young adults! 

GRACE LEE
Grace resides in Georgia and first volunteered with KKOOM in 2015 when she was a Fulbright English Teacher in Sejong. After volunteering at the Samsungwon Christmas party, she became a Board member in 2016, the Chief Administrator in 2017, and the organization's first Executive Director in 2020. While at Georgia State University, she obtained a Public Policy degree, with a concentration in Nonprofit Leadership. As the Executive Director, she oversees all social media marketing, manages donor relations, email communications, and supervises our KKOOM interns and executive assistant. You can read more about Grace here.