Core values help drive the direction of any organization because these values are what determine the decisions and actions to benefit the stakeholders. At KKOOM, we have existed since 2007 building enrichment programs and providing scholarships, but we never had our core values written down. In 2022, the Board of Directors finalized this list that we are excited to share with the greater KKOOM community. 
KKOOM's core values are the education of the whole child, culture, cultural exchange, human dignity, and collaboration. 
EDUCATION OF THE WHOLE CHILD
Caring for the well-being of the child as a whole (mind, body, and heart) is important to serve our mission of improving the lives of youth in Korea's social welfare system. 
CULTURE
Providing enrichment activities in South Korea creates cultural immersive opportunities for the youth and young adults to be better connected to Korean culture. 
CULTURAL EXCHANGE
Promoting opportunities of cultural exchange expands the horizons and opportunities for the children to dream bigger with their future goals and plans. 
HUMAN DIGNITY
Treating every child and young adult we serve with dignity and respect. 
COLLABORATION
Building positive relationships and having financial accountability with the children's home staff and house mothers create sustainable programs. 
As KKOOM continues to grow in its impact, we will determine how to allocate funds or create new programs based on these five core values. The focus of everything we do is to improve the lives of Korean youth and young adults we serve. Thank you for being a part of our community as we work towards the same goal of creating brighter tomorrows for youth living in Korea's social welfare system.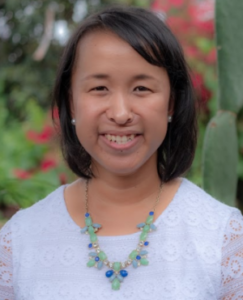 GRACE LEE
Grace resides in Georgia and first volunteered with KKOOM in 2015 when she was a Fulbright English Teacher in Sejong. After volunteering at the Samsungwon Christmas party, she became a Board member in 2016, the Chief Administrator in 2017, and the organization's first Executive Director in 2020. While at Georgia State University, she obtained a Public Policy degree, with a concentration in Nonprofit Leadership. As the Executive Director, she oversees all social media marketing, manages donor relations, email communications, and supervises our KKOOM interns and executive assistant. You can read more about Grace here.