In 2018, the BTS One In An ARMY (OIAA) reached out to KKOOM to do a fundraiser in honor of Jungkook's birthday. It was the first time that a fanbase reached out to support the children we serve. They wanted to raise enough funds to provide scholarships to our preschool and college scholars. This was the first charity fundraiser for BTS One In An ARMY to celebrate an individual BTS member's birthday. Their love and outreach helped raise over $3,800 across 40 different countries. The BTS Army who gave hope to the children we support in 2018 opened the doors for other fan bases across the globe to fundraise for KKOOM. 
Six fanbases in 2021 helped raise $3,245 to support KKOOM's scholarship programs and enrichment activities. We want to express our appreciation to each of these groups and individuals who decided to bring awareness and give hope to support Korean children: 
BLINK Eco Project – January 
The #HappinessBeginsWithChu fundraiser provided funding to send Gabby (former KKOOM preschool scholar) to preschool for one month. The birthday fundraiser was in honor of Black Pink member Jisoo.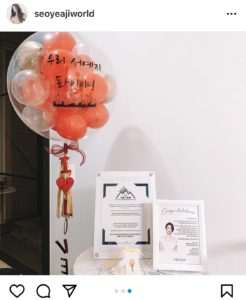 FORYEAJI International – February
The first International fanbase for Actress Seo Yea Ji donated to KKOOM to support our preschool scholarship program. They shared these words of encouragement to Seo Yea Ji – "May your success serve as an inspiration to so many children looking to find hope in difficult circumstances."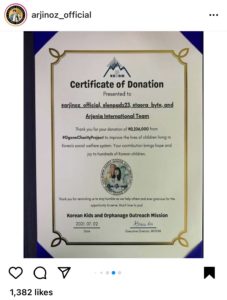 Arjenia International Team – July 
Thank you to the Arjenia International Team for your donation towards our college scholarship program. Your support funded a KKOOM semester scholarship to two of our college scholars, Jaehyuck and Minyoel. Raising the funds in honor of Kim Go Eun's birthday, they said, "Thank you for reminding us to stay humble as we help others and ever gracious for the opportunity to serve. Much love to you!"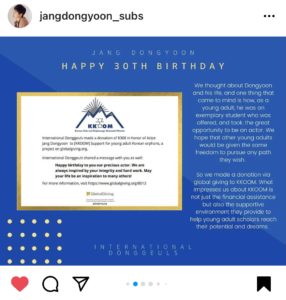 Jang Dong Yoon fanbase – July
This was a fundraiser in honor of actor Jang Dong Yoon's birthday. Their efforts helped KKOOM provide a scholarship for one semester to one of KKOOM's college scholars. "Happy birthday to you, our precious actor. We are always inspired by your integrity and hard work. May your life be an inspiration to many others!" 
JoonChae International – August 
The JoonChae International Team donated in honor of Moon Chaewon's upcoming movie "We Grow Up." Their fundraiser helped KKOOM celebrate our 14th anniversary. Their donation funded the purchase of two wardrobe closets for the boys at Samsungwon Children's Home. Thank you for sharing encouraging words to the children we serve. "Happy 14th Anniversary! May God continue to bless your organization so you can continue being a blessing to these children.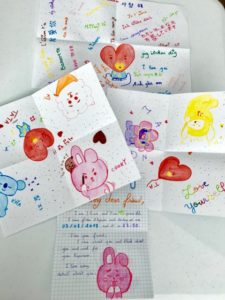 BTS We Purple You team – December 
From Singapore, the BTS fanbase "We Purple You Team" created their own individual fundraiser from our holiday campaign to provide gifts to three Korean children. We are "sending our love to the children in Korea" to raise money in honor of Jin and V's birthday from the Kpop band BTS. 
While the giving is in honor of different celebrities, from actors, actresses, BTS, and Blackpink, the reason is all the same – to uplift and brighten the lives of Korean children. It takes a village to raise children to thrive, flourish, and to be loved. We are thankful that there is an international community, our KKOOM family, who will do whatever it takes to ensure children in Korea's social welfare system grow up in a positive and stable environment. 
With gratitude,
-Grace Lee, Executive Director