On September 26th, KKOOM celebrated its 10th Birthday!
KKOOM's President, Aimee Jachym, had the opportunity to visit South Korea in October 2017. During her visit, she gathered the kids together for a KKOOM birthday party. It was also a special time in Korea as the country was celebrating Chuseok, a major harvest festival over three days.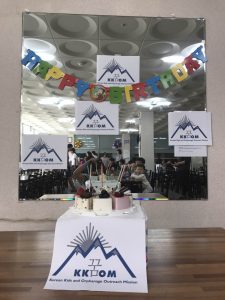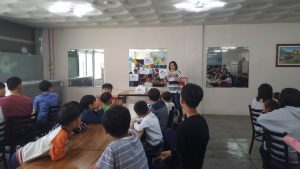 On October 5th, KKOOM bought lunch and movie tickets for all the elementary, middle, and high school students at Samsungwon Orphanage. The children enjoyed singing happy birthday to KKOOM while eating delicious cake from Baskin Robbins. While the older children and young teens enjoyed the movies, the preschool children went to a local play cafe to just be kids and have fun.
Aimee was also able to visit Emmanuel Children's Home in Gimcheon on October 10th to meet with the children there, while catching up with Sujin. Sujin is the piano teacher at Emmanuel's Children Home that currently teaches approximately eighty children. Lot of details were also solidified for our upcoming annual holiday party. While KKOOM was not able to host a holiday party at Emmanuel last year, we are looking forward to having our Chief Administrator in South Korea this December to hold a festive party this year. Check back soon for more details about our holiday parties and fundraising to purchase gifts.