In early August 2017, KKOOM Board Member, Bill Downey, traveled to South Korea. He visited the students at Samsungwon Orphanage and even joined them at a local amusement park. We asked Bill if he could share a few of his experiences below:
__________________________________
Each year in August during the school break, the children, staff and volunteers from Samsungwon visit a water park, go camping or a combination of things and this year they went to Everland Amusement Park, just south of Seoul for 3 days and 2 nights.
Everland is your typical amusement park with various rides, theme presentations as well as a water park and zoo-type exhibit called Zootopia.  This is a good destination as it has something for all ages and interests.   I had a chance to spend some time with the kids on their first full day and visit a couple of the theme areas and have lunch with everyone.  The food was quite good and the park was very well organized, clean and for a day that was near 100 degrees and high humidity, people were handling the crowds and heat in a patient, good-natured way.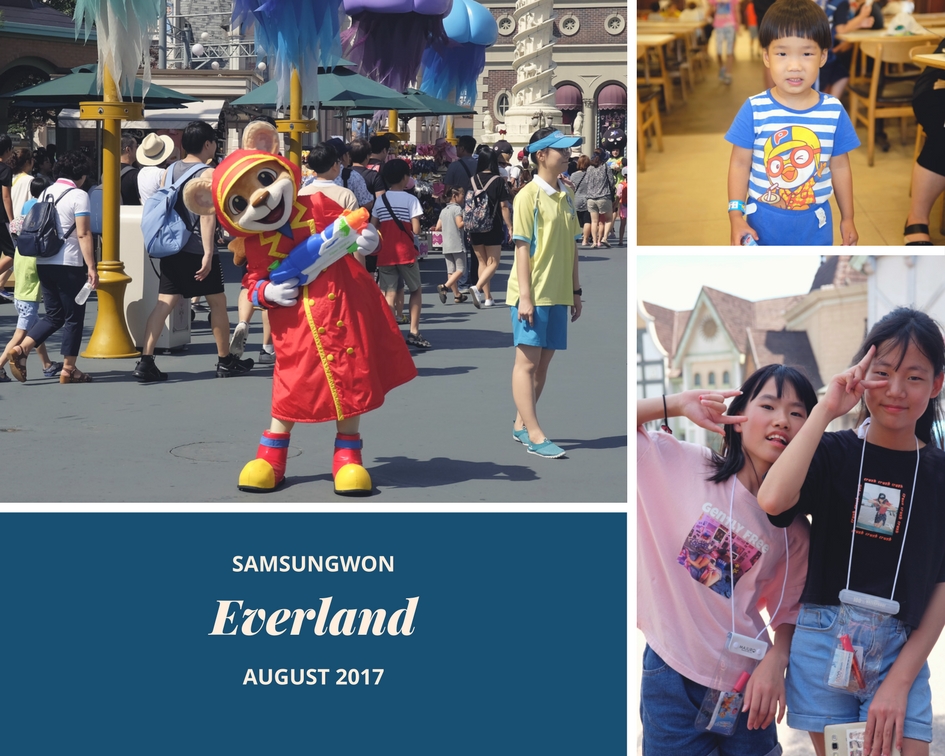 This was also my first time without Aimee Jachym's assistance with language interpretation so I had to sink or swim!  I regret my progress over the past four years in learning Korean has been less than I had hoped. I did manage to cobble together a few sentences here and there and when in a pinch, pull out my trusty Samsung Satellite 8+ and use Google translate.  Maybe not the best way to communicate but it would have to do for now.  I think I needed to be put in a situation that would motivate me to try learning Korean quicker!
Kids are amazing!  As hot as it was, they seemed to be having a terrific time.  It is great for them to have an opportunity to get away from the city and their normal routines, doing things that all kids do.  Time to relax and play are integral in helping them to develop into well-rounded people and your donations help to provide them the opportunity to have these types of activities.  Your support is critical in helping us continue to provide these kinds of activities and support and the kids appreciate it as do we here at KKOOM!
Regarding communicating during my visit, I didn't sink but I didn't swim, either.  Let's say I was able to float and hope to be able to tread water, in Korean by my next trip to South Korea!
NOTE: As part of our commitment to KKOOM and our donors, Board Member Bill personally funded his travel and expenses to attend the Everland trip in South Korea. 
Written by Bill Downey, KKOOM Board of Directors