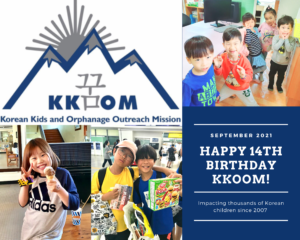 This September marks KKOOM's 14th Anniversary and what a beautiful journey it's been! Since 2007, Korean Kids and Orphanage Outreach Mission has impacted thousands of children living in Korea's social welfare system. With your support, we have funded scholarships for preschool and college scholars, summer camps to Seoul, holiday parties for 200+ children, and outreach programs that have positively impacted each child we have served the past fourteen years.
We can only exist through your kindness, love, and care for Korean children and young adults.
KKOOM is hosting a special fundraiser in honor of our 14th anniversary. Help us celebrate impacting Korean children through the "So Worth Clothing" Fundraiser!