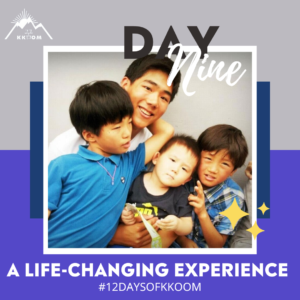 As we celebrate the holiday season, I am so grateful to be able to serve as a board member of KKOOM. What greater blessing is there than to bring a little joy to the lives of the wonderful kids living in children's homes in Korea? 
It's been 10 years since my journey with KKOOM began when my son Justin traveled to Korea to participate in a stay program at Emmanuel Children's Home. He was a high school student at the time who had been video tutoring with the Emmanuel children online and was so excited to be able to meet the children in person.
The stay program was a life changing time for Justin. He experienced the powerful impact that a young person could have by teaching, caring, playing, and just spending time with children living without the daily support of their immediate families. 
Following in Justin's footsteps, my second son, Davis, also had a wonderful experience tutoring the children of Emmanuel. Unfortunately the stay program was halted at the time but we had the privilege of hosting one of the children in our home in Connecticut. 
As I reflect on KKOOM and why I choose to serve on this board, I find that I am incredibly moved with what Aimee, Grace, and all the volunteers of KKOOM have accomplished in the past 15 years since the organization was founded. The consistent financial and emotional support that KKOOM has provided to the children's homes has added so much joy to the children's lives. I also love how KKOOM is committed to serving the young adults who age out of governmental support at 18 and are left with little financial or emotional support. 
As a mother and as a Korean American, I feel a deep connection to the children in Korea. It is so moving to watch the house mothers, staff, and the KKOOM community come into their lives to give them the parental care and support they deserve. Thank you, KKOOM for all you do, and thank you to everyone who is able to contribute to the Wish Upon a Star Holiday Campaign this year. 
PATTY LIU
Patty joined KKOOM's Board of Directors this year. She is the founder/CEO of BestofKorea.com, a media platform that features the best of Korean culture, entertainment, lifestyle, and achievement. As a Korean American author, entrepreneur, and E-commerce executive living in Minneapolis and New York City, she was born in Seoul and immigrated to the US when she was five years old. She graduated from the Rhode Island School of Design with a degree in Painting. You can read more about Patty here.