Welcome to KKOOM's Annual 12 Days of KKOOM! For the next 12 days leading up to Christmas, you'll hear about our impact in 2022 and stories from KKOOM Board members, volunteers, and donors. Let's celebrate all the good we've done together in 2022!
________________________________________
It is hard to wrap my head around KKOOM being 15 years old. FIFTEEN! As KKOOM celebrates its 15th anniversary, I sit here reflecting on what being a part of this organization means to me. KKOOM has changed and evolved over the last 15 years, and while I am sure it will evolve again over the next 15, I am so proud of where the organization is today.
We started as an organization that was born out of our volunteer hours spent in Samsungwon Children's Home in Gumi. The original Board had all volunteered there over the course of a two-year period. We were young and perhaps a bit naive, but we wanted to help, to make the kids smile and have opportunities that we knew they were missing out on. The first few years were focused on holiday parties and events, but we soon expanded to volunteer-led events year-round, educational initiatives, help with new arrivals, funding for big projects, and more. Different needs came up and KKOOM evolved to meet them. We have faced challenges and bumps in the road as any organization does, but we have stayed true to our mission. And because of that, today KKOOM is stronger and has a clear vision of purpose.
KKOOM has clear initiatives like the preschool scholarships, college scholarships, welcome boost, and a variety of events. We still have the holiday events, the start of it all, but the organization is so much more than that now. We have preschool scholars who received early education that otherwise would not have had who are doing well in middle school and high school. We have college scholarship recipients who have graduated and are working in jobs they previously dreamt about. We have built partnerships and supported initiatives. I am so proud of KKOOM and all the lives we have touched. That is what it is about. Fifteen years later, it is why I am still on the Board.
Fifteen years ago, the idea that KKOOM would be flourishing without the core of those who started it was little more than a dream that seemed unlikely and maybe even impossible. And yet, we made it; we are there. The current, new generation of KKOOM Board Members and our current Executive Director are leading KKOOM into a future where KKOOM will continue to evolve, make real change, and continue to learn and grow with the singular sight of helping the youth and young adults we serve. I am so proud to see how we have evolved and where we are today, but even more so, I cannot wait to see what comes next. I know that the future of KKOOM will be exactly what I wished and hoped for 15 years ago and continue to wish and hope for now: that KKOOM will make a difference in as many children's lives in South Korea as possible. On to the next 15!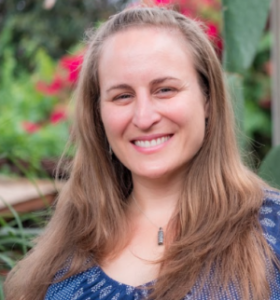 LEANNE STEIN
Leanne has served on KKOOM's Board since the beginning and is strongly committed to KKOOM's mission. She currently lives in Los Angeles and works as a speech-language pathologist. After graduating from Pitzer College double majoring in Psychology and English/World Literature, Leanne was a 2005-2006 Fulbright English Teacher, teaching English to the boys at Gyeonggu High School in Gumi. She spent her free time volunteer with the children at Samsungwon. You can read more about Leanne here.