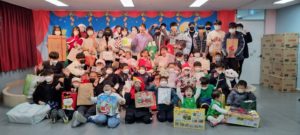 Merry Christmas from KKOOM!
We wish you a very bright holiday season with friends and family because you helped brighten the lives of 175 Korean children with your radical generosity. Hear a special message from a KKOOM-supported children's home.
Here's a sneak peak at one of the Christmas Eve performances at a KKOOM Holiday Party. We will share more photos & videos very soon! One of the holiday parties took place on Christmas Eve along with a Christmas meal, receiving gifts from their wish list, and a having a friendly gingerbread house competition. You can vote on KKOOM's social media pages for your favorite gingerbread house, so check out our Facebook, Instagram, or Twitter pages!
On Giving Tuesday and through our holiday campaign, we have raised over $21,000 to provide gifts & Christmas meals to three children's homes. Words cannot express how grateful we are to our community, the KKOOM family, for giving generously so the children can have precious memories this December. Thank you for making little miracles possible through love!
With gratitude,
-Grace Lee, Executive Director