Imagine a newly arrived toddler has entered through the doors of an orphanage for the first time. All the child has is the clothes on his or her back. That's where KKOOM provides approximately $125 to orphanage caretakers to purchase basic necessities, such as clothes and other essential items. Since 2016, KKOOM has supported 11 children to receive a Welcome Boost fund. In late July, two male toddlers who arrived at Samsungwon Orphanage and Emmanuel's Children Home benefitted from our Welcome Boost Funds.
Read below to learn more about each toddler KKOOM helped to welcome in a positive environment. We also had a KKOOM supporter recently raise money for these funds and you can read why she had the heart to raise money for this particular program.
HyungJun (12 months old)
HyungJun arrived at the orphanage around July 18th weighing 16 pounds at 11 months old; the average weight of a one-year-old is 21.5 pounds. His house mother purchased new clothes and underwear because he only had the clothes he was wearing when he arrived.
He loves to laugh and listens well to his house mother. She promised him "I will help your body and mind grow into a healthy child." We can see the difference in his physical demeanor between the photo on the left, which taken when HyungJun first arrived and the photo on the right where he's beaming with a smile which was taken just two weeks after his arrival.
KKOOM is thankful his house mother is already starting to improve his health and wellness.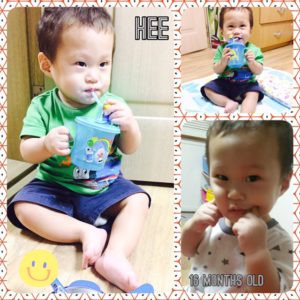 Hee (16 months old)
Hee is very good at eating well while adapting to his new environment. Arriving around July 25th, he is the first child we have supported at Emmanuel's Children Home with the Welcome Boost. With shortage of school supplies to start preschool, his house mother plans on buying basic school items he needs, while also purchasing toys and nutritional snacks.
She sent us photos of newly bought blankets and kitchen items with a Pororo cup; Pororo is a cartoon character widely loved by Korean children. His house mother gladly shared, "…very cute child who knows how to express the pleasure and gratitude of dancing with delicious food and exciting music."

Liat Shapiro raising money for Welcome Boost Funds
With Liat's enthusiasm to give back to our Welcome Boost funds, she raised a total of $150 in late July. She rallied friends and family to give to an important cause she is personally invested in. KKOOM asked Liat to share her reason why she raised money for our Welcome Boost Fund. She said,
"As a Korean adoptee, I was welcomed by so many people–the adoption agency, my foster parents, my American family. Since 2015, helping Korean orphans became one of my goals, and now, by fundraising with KKOOM, I am able to catch that dream. And, with it, I hope, I'll be able to empower and help my little brothers and sisters fulfill their dreams."
Thank you to Liat and our KKOOM donors for helping us impact these orphans. The Welcome Boost Funds help the children start their new beginnings in a positive way.