KKOOM is excited to announce we're celebrating our 10th Anniversary this year until we turn 11 years old in September. In honor of the celebration, we're raising funds to support Korean orphans for the next 10 years. Our goal is to raise $10K from 1,000 donors willing to give $10 or $10 a month.
Specifically, we're raising $3,000 for the new construction of the first ever preschool playroom at Samsungwon Orphanage. While there are 54 children at Samsungwon, eight children are toddlers. We are excited that for the first time, the toddlers will have their very own play space to enhance their imagination with toys and books to sharpen their reading comprehension skills. Typically, there are seven to nine children in one house at Samsungwon Orphanage with their house mom.
This special environment just for the toddlers will allow them to continue growing in a positive environment designated just for their children's play and learning. Construction has been underway this summer as you can see from the photos below.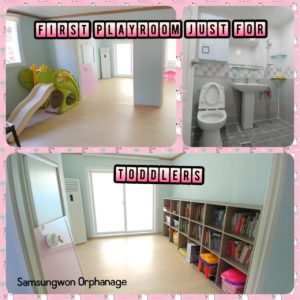 This room that was originally used for storage has been re-purposed for Samsungwon's first preschool playroom. The bathroom has been renovated, new flooring and wallpaper has been added. New books for learning and play centers have created a positive environment for the younger children at Samsungwon Orphanage.
If you would like to celebrate our 10th Anniversary with us by making a gift to fund our preschool playroom construction, we invite you to give here: www.tinyurl.com/CelebrateWithKKOOM.
Thank you for all that you do to brighten the lives of South Korean orphan children.
With gratitude,
Grace Lee
Chief Administrator