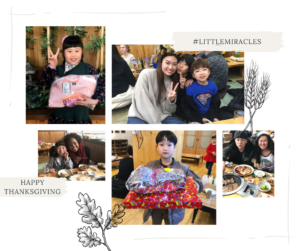 As a community supporting Korean children, we equal the playing field for these children to thrive and flourish. Thank you for giving a new season of hope to Korean children through your love and giving. 
When Sonny aged out of the children's home, you stepped in to provide him shelter, food, and a place to stay. When he could not afford his apartment rent and electricity bill for a month, you funded it through your generosity. 
You helped greet four newly arrived children with new clothing and basic necessities by providing a Welcome Boost Fund for each child. One of those newly arrived children is now KKOOM's Preschool Scholar, Harmony. 
Harmony arrived in March to a KKOOM-supported children's home and you gave her access to an education where she is learning to improve her social skills inside and outside the classroom. Jaehyuck started his first year in college as a KKOOM College Scholar, and Minyeol began his graduate studies. Our impact is not done in 2021. 
Our #LittleMiracles Holiday Campaign officially begins on Giving Tuesday. Our hope is to provide a Christmas meal to 175 children and provide gifts to all 50 children at Aemangwon. This is our second year of providing Christmas gifts to every single precious child that lives at Aemangwon. 
Where there is great love, there are always miracles. By sponsoring a $35 Christmas gift, you will give a little miracle to a child with cognitive or physical challenges. Every donation will be doubled this holiday season, up to $5,000.
Together, let's give these children the love and support they deserve. Life is a series of thousands of tiny little miracles. May you receive the greatest blessings this holiday season because you are a blessing to the Korean children we serve. 
With gratitude, 
Grace Lee, Executive Director