In 2021, KKOOM funded scholarships for one preschool toddler and two college students. We believe in equaling the playing field so Korean children and young adults have access to an education because "education is transformational. It changes lives," a quote by former Secretary of State Condoleeza Rice. 
Harmony arrived at a KKOOM-supported children's home earlier this year in March when she was 20-months-old. She immediately started preschool thanks to the generosity of the KKOOM community. Here is a quote from Harmony's house mother which shows the positive impact of your giving: 
"Thank you for funding Harmony's preschool scholarship so quickly after her arrival. The scholarship helps the children a lot. Living at a children's home during the pandemic and government restrictions, it is hard to build social and emotional skills. If it was not for KKOOM, Harmony would not be attending preschool due to her age. Despite the lack of educational attainment and though it's incomplete sentences, her speaking ability has improved. In less than 2 months, her babbling has turned into short words like, "me too, with me, or give me." If KKOOM continues to support her scholarship, there is much growth expected in her educational endeavors in the future. Thank you!" [Quote from "Flourishing Education" in spring 2021]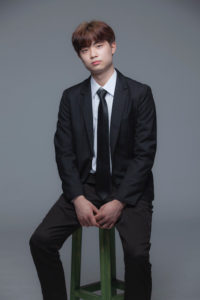 2021 marked new beginnings for our two college scholars as Jaehyuck started college wanting to study Security Management and Minyeol began his Master's program to study Theology. Both Jaehyuck and Minyeol grew up at the same children's home, one being a participant of KKOOM's Dream Camp in summer 2019 and the other being involved in the local church as the worship leader. They are still navigating a new normal of virtual classes and have stayed positive despite the challenges of not having in-person classes.
Your donation to provide a scholarship to Harmony, Jaehyuck, or Minyeol is life changing. It is being committed to changing the trajectory of a child's life through the transformation of a gift – investing in their education. Thank you for investing in Korean children and young adults to transform their future through KKOOM scholarships. 
With gratitude, 
-Grace Lee, Executive Director